© 2010 Company Name. All rights reserved.

how we got started, and where we are now...

DID YOU KNOW?

Sterling Impression...

...was the first animal rehabilitation center in Massachusetts.

...now offers acupuncture, reiki, and chiropractic services to all of our clients.

...now offers a
Slim Swim
program to better the health and increase the longevity of your obese pet!


1008 East Street, Walpole, MA 02081 | Email: sterlingimpression@gmail.com | Phone: (508) 668 - 7946 Fax: (508) 668 - 7973

STERLING IMPRESSION ANIMAL REHABILITATION CENTER









OF NEW ENGLAND
This center was created as a result of a long time dream of Dr. Marjorie McMillan. She realized there had to be a better way to treat animals with lameness issues. She carried her 15 year old, paralyzed, Labrador retriever, Sterling for 2 years. That led to an interest in physical rehabilitation and her getting involved in coursework at the University of Tennessee Veterinary School.

In June of 2003, Dr. McMillan and Cathy successfully completed the  Canine Rehabilitation Practioner (CCRP) program offered at the University of Tennessee. Becoming two of the first  thirty six practionioners in the country. 

In August of 2004 the Water Wellness Center moved to its new location and was renamed Sterling Impression Animal Rehabilitation Center of New England. The center was named in memory of and dedicated to Sterling, Dr. McMillan's Labrador retriever.

With the move we have acquired additional space and new equipment which includes a new lap pool with a whirlpool spa. In addition to new equipment we also have some new staff members who not only enhance the center with their care and compassion but bring along expertise in the world of animal rehabilitation.

The University of Tennessee has been doing ground breaking work in physical therapy for small animals. As a result of her experience with Sterling, a desire to provide state-of-the-art care for other pets with musculoskeletal and neurological disorders, she and Cathy Symons created the Water Wellness Center.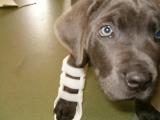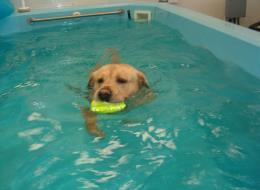 Words cannot express my gratitude for helping my little Buddy.  When we first met with the team, I immediately realized what a special place this was.  Everyone was so caring and compassionate.  You took the time to explain options and worked slowly with Buddy so he wouldn't be nervous. 

That was five years ago and Buddy still gets so excited to be there!   He can't wait for his turn – especially pool time! Thank you all so very much for everything.

- Marge O'Neil